About Lorie Marrero
Coach ● Author ● Speaker

I said everything I ever wanted to say about closets…
After 17 years of a truly great ride as an organizing and productivity expert, doing things I never dreamed I would do– like represent some of the biggest world-class brands, be on the masthead of a major woman's magazine at Hearst, and write a Wall Street Journal bestseller– I re-invented!
I made a very considered decision to sell and close pieces of my business starting at the end of 2017. It was time to shift into a new chapter of my career.
My happiness now comes from helping others with what I learned along the way. 
I am happily occupied with wonderful projects now, but if you need to reach me, email me at lorie [at] loriemarrero [dot] com.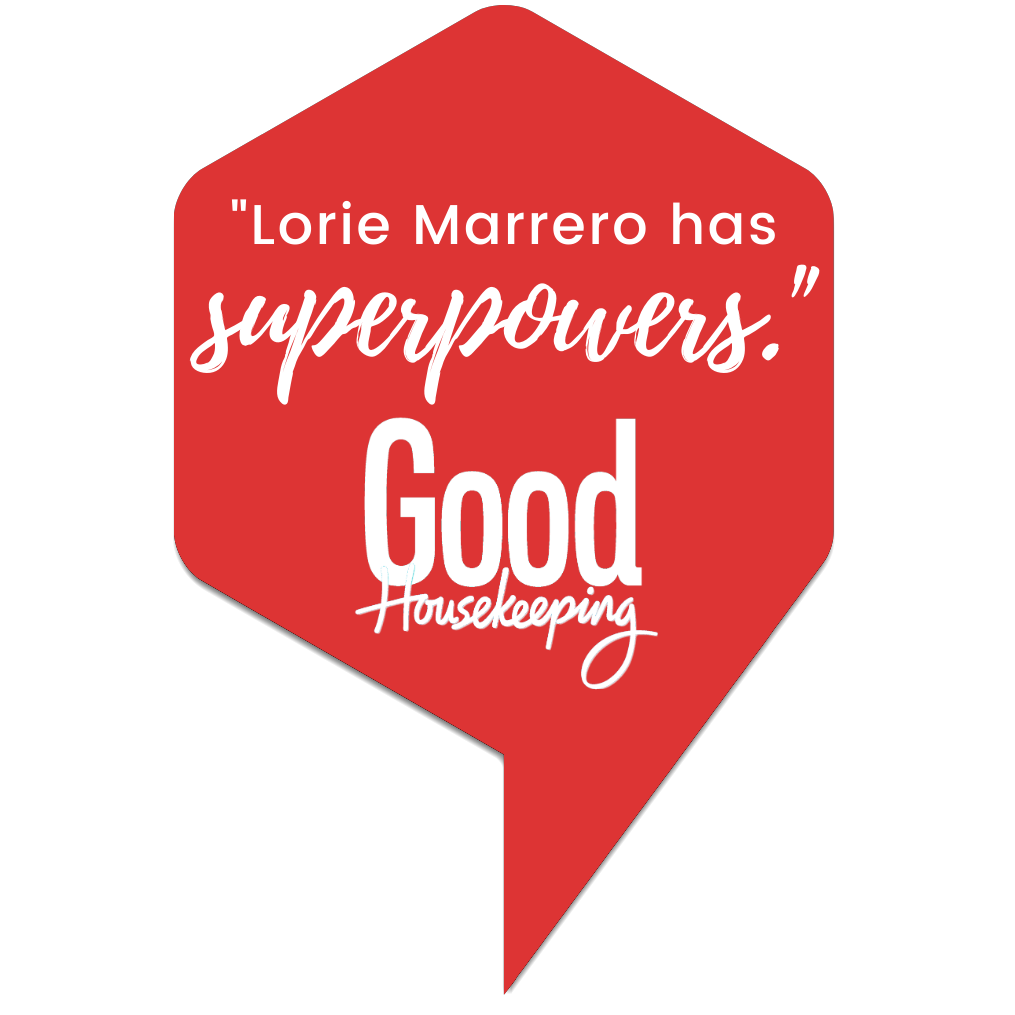 My programs and coaching have helped thousands of people in 18 countries.
Speaking & Training
I have presented hundreds of both virtual and stage performances for corporations, non-profits, and associations, as well as my own online community. I've spoken on Brendon Burchard's stage, keynoted the launch for a partnership between Goodwill and Levi's, and presented virtually as soon as it was possible (before Zoom was ever invented). I was also a member of National Speakers Association for many years, attending their trainings and conferences and helping to lead our local chapter.
Bestselling Author
My Wall Street Journal bestselling book is The Clutter Diet: The Skinny on Organizing Your Home and Taking Control of Your Life. Imagine showing up on the same list as Tim Ferriss, Laura Hillenbrand (Unbroken) and Cheryl Strayed (Wild)! I also published The Home Office Handbook, and I wrote a 97-page eBook called The Improve Your Move Workbook for relocations. No matter how many people in the meet-and-greet line, I never, ever got tired of signing books for my readers.
Coaching & Consulting
My membership program to get people organized virtually was the first of its kind in the industry in 2007. My team and I helped thousands of members around the world through our individual and group coaching, consulting, and courses. I hold an ICA & ICF approved coaching certification as a Clear Beliefs coach, along with coaching training I've received from Christian Mickelson. I now coach business owners, entrepreneurs, executives, and influencers who want to level up their lives.
Editor, Writer & Contributor
I was on the team at Hearst for four years as a Contributing Editor for Woman's Day magazine and have been a frequently sought-after expert for national media, including Fast Company, Parade magazine, CNBC, and WGN News. I have written for or provided expert contribution to many leading print and online publications, including Good Housekeeping and Lifetime Network, and I was a major contributor to the Better Homes & Gardens book, Organize Your Home. 
Spokesperson & Voiceover
I served for eight years as national spokesperson for Goodwill Industries International (and one of our PSA television projects won a Telly Award!). I also did spokesperson work and partnerships with many other companies including Staples, Rubbermaid, ClosetMaid, Swingline, Lemi Shine, Brother, and Microsoft. I have done industrial and commercial voiceover work as part of these partnerships, as well as Radio and Satellite Media Tours, presentations, and online events.
Content & Course Development
I created and launched seven online courses beyond my membership site and have enjoyed helping others develop their own courses and content. Growing a following and becoming an "Influencer" before it was a "thing," I have extensive experience understanding what audiences want and knowing how to deliver it in the best learning modalities. Brainstorming with clients, outlining their courses, and planning their content is always fun and rewarding.

It's a true story that I saved up my allowance to buy a label maker in fourth grade, when other students started asking me to help organize their desks. After graduating from Southwestern University in Georgetown, Texas, I entered the organizing industry and took it as far as I could go, with the biggest brands in the industry all partnering with me in various ways.
As an entrepreneur and an active mother who has moved thirteen times and has overseen the building of five homes, I bring tremendous insights to the B2C market. I am ecstatically happy to live in the Austin, Texas area, with my husband Don and our combined six children.